A House of Cards is the tenth mission in Hitman: Blood Money. Agent 47 is assigned to eliminate Hendrik Schmutz, a white supremacist, Mohammad Bin Faisal Al-Khalifa, the Chief Executive Officer of APEX International, and Tariq Abdul Lateef, Mohammad's scientist.
Target:
Hendrik Schmutz
Tariq Abdul Lateef
Sheik Mohammad Bin Faisal Al-Khalifa
Mission information
Briefing
Welcome to Las Vegas, 47. There's a white supremacist from South Africa, his name is Hendrik Schmutz, who is trying to sell some DNA material and lab reports to the wealthy Mohammad Faisal Al-Khalifa. The sheikh is working for someone else, but we're not sure who. Our client wants to force them into the open by disrupting the deal. You've got three targets: the Afrikaner, the sheikh, and the sheikh's scientist, who'll be there to verify the material. We've been losing a lot of agents lately, 47. Any mission could be a set-up at this point.
Intel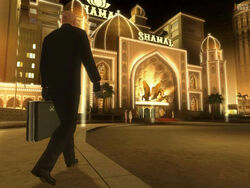 It would be wise to check in at the reception as one of the first things you do at the casino.
Security is very tight in high profile casinos, so staff have keycards which only provide access to the floors they work on.
As requested, we have left you an agency pickup in your hotel room.
The casino has strict fire-safety procedures. Easily accessible fire alarms are located on the top floors.
It's important to find good vantage points. Room balconies may provide this.
The VIP Lounge has been reserved all day by the Sheikh - only waiters are allowed in this area.
There is no cell phone coverage inside the casino to prevent cheating. Anyone receiving a call has to step outside.
The items used in the trade are carried around in an ordinary looking suitcase so they don't catch too much attention.
Objectives
Kill Tariq Abdul Lateef
Kill Hendrik Schmutz
Retrieve the diamonds (optional).
Escape the casino.
Weapons
SLP .40 - On all hotel guards, in various weapon caches and some of the Sheikh's bodyguards
SLP.40.S - On Hendrik Schmutz
TMP - In 47's hotel room and on the Sheikh's bodyguards
RU-AP mine - In 47's hotel room
Disguises
Casino Staff
Casino Security
Sheik's Bodyguard
Outcome
Agent 47 eliminates his three targets, steal the Sheikh's diamonds and is able to escape the casino.
Trivia
A file about the mission can be seen in trailers for Hitman: Absolution.
In this mission, 47 is signed in under the alias "Dr. Cropes," an anagram for "Corpse".
This is the only mission that ICA crate will have some equipment for 47 even he did not equip anything.
The mission takes place on June 9, 2005, while the next mission takes place next door few months later.
The mission's newspaper has an article of a mysterious Southern high-roller using a fake name.
There is a drunk woman walking near 47's hotel room who will invite him to hers. If 47 goes there, the woman will pass out in front of the television. Her room provides an excellent area to snipe Schmutz.
There is a hotel worker on the balcony of 7th floor smoking cigarettes who may catch you climbing or sniping. To get silently rid of him, either sedate and drag him to the container in the staff quarters (while the fire alarm is activated), or simply push him down to his death.
If you try hitching a ride on the elevator to a floor you don't have a keycard for, the security guard will demand to see your keycard. If you walk pass him anyway, you will be shot.
Guards who see you walking on ledges will immediately open fire on you.
Schmutz will attack you on sight if he sees you carrying his DNA briefcase. Amusingly enough, when he does this, he will say, "Oh my God, the maniac's out of control! Help!".
Oddly enough, if male hotel guests caught you in their room, they will tell you to leave, saying "This is private property, you know."
If the fire alarm is pulled, everyone on the floor will rush towards the elevator area until the alarm turns off.
It is possible to kill Lateef in a car accident using his own limo by luring him in front of it with coins.
If a mine is placed inside the DNA briefcase and sent to Lateef for testing, it will automatically explode when he opens it, killing him instantly. If he dies this way, it will be ruled as an accident.
If you detonate a mine, the fire alarm will permanently activate, causing the whole floor to be on full alert. Additionally, sprinklers throughout the level will also activate.
Error: When you pick up the Keycard for Room 807 the inventory description tells you the room is located on the 7th floor when in reality it is on the 8th floor.
Xbox 360 version has a very bad sound glitch that shows up consistently when entering certain locations including visiting the drunk lady on Floor 7, stepping out on the rooftop where the target answers his phone, etc.
If the sheikh's scientist sees you standing on the ledge next to the balcony of your hotel room, he will immediately leave the safety of his own hotel room, take the elevator to the 7th floor, and run straight into your hotel room (and consequently your trap) to tell you to stop. What's even more amusing is he will say "Leave me alone!" when doing so. The same will hold true if he sees you in his room.
There are 129 killable NPC's on this level, including the 3 targets.
Video