Agency Gun Pack DLC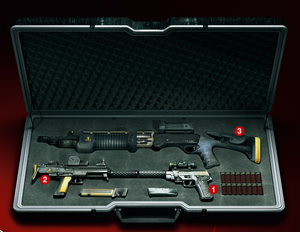 The Agency Gun Pack DLC was made available to those who purchased the Professional Edition of Hitman: Absolution.
Description
This DLC provides Agent 47 with three weapons and all of their attachments. These weapons may be used in Contracts Mode.
Excluding the Agency HX UMP, the other two weapons are available by playing through the campaign missions and picking them up. The DLC simply allowed early access.
Pricing
The guns included in this DLC have since been made available for purchase individually through the PlayStation Store for $0.99 each, PC (Steam) for $0.99 each, and Xbox Live Marketplace for 80 MSP each.
Trivia
The Agency HX UMP is included in the DLC, but the advertisement wrongly depicts the Agency Dynamics CPW.
All of the Agency weapons can also be found in the game in the mission Attack of the Saints, though they are apparently not customized, making the Agency features purely cosmetic.
Ad blocker interference detected!
Wikia is a free-to-use site that makes money from advertising. We have a modified experience for viewers using ad blockers

Wikia is not accessible if you've made further modifications. Remove the custom ad blocker rule(s) and the page will load as expected.