It's a straightforward assignment, 47.
This article is a stub and is in need of expansion. You can help the Hitman Wiki by expanding it.
Howard Moxon (also known as "The Broker") is an elusive target that appeared as an elusive target available from August 5th, 2016 to August 7th, 2016 in the mission The Showstopper. The mission not only required that Moxon be assassinated, but that the Ivory White be collected in the same mission.
The target reappeared from February 23rd to March 5th, 2018.
Briefing
Sir Howard Moxon is blue-blooded English nobility from a family that traces its links to the 17th century and the English Civil War. He has connections across the world in the very finest circles where he is welcomed as an art expert and as someone who can find extremely rare pieces for the discerning buyer.
He has increasingly turned to the sale of forgeries to support his expensive lifestyle and the network of houses and estates he maintains around the world. Most recently, he has been linked to the near-mythical Ivory White, which he is currently brokering for sale.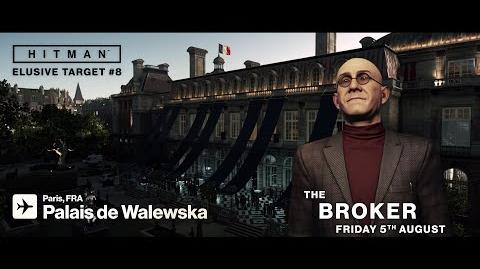 The Broker
Target
Howard Moxon
Method
Any
Diguise
Any
Location
The Showstopper
Paris
Date
August 5th, 2016
August 7th, 2016
Reactivation
February 23rd, 2018
March 5th, 2018
Trivia
While standing outside, he may complain on the phone to another person, and reveal the location of the Ivory White.
Sergei Larin's intel shows that Howard Moxon is one of his buyer.
A bug allowed players to begin the re-activation on February 15th, 2018.