It's a straightforward assignment, 47.
This article is a stub and is in need of expansion. You can help the Hitman Wiki by expanding it.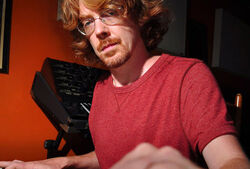 Jesper Jakobson Kyd (born February 3, 1972) is an acclaimed video game and film score composer.
The Danish-born composer is best known for composing music for the Hitman series.
He continued his work with the Hitman series, and returned as a composer in each of the following games. However, he did not work on Hitman: Absolution, and won't return in HITMAN.
Game Credited and Game Soundtracks
Assassin's Creed
Assassin's Creed 2
Assassin's Creed: Brotherhood
Assassin's Creed: Revelations
The Nations
Brute Force
Robotech Invasion
Freedom Fighters
Unreal Tournament
External links
Ad blocker interference detected!
Wikia is a free-to-use site that makes money from advertising. We have a modified experience for viewers using ad blockers

Wikia is not accessible if you've made further modifications. Remove the custom ad blocker rule(s) and the page will load as expected.