Welcome to Hitman Wiki, a wiki dedicated to the
Hitman series
.
955 articles created since creation on 10 February 2006.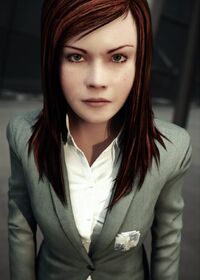 Victoria is a genetically enhanced girl and has similar origins to that of Agent 47. She was designed to be the next breed of killers. She possesses above-average skills and intelligence even surpassing 47's abilities at the major drawback of constant need for exposure to the unknown isotope held within in her Necklace Pendant
Her creation was funded by Benjamin Travis without the knowledge and approval of the ICA, thus, forcing Burnwood to capture and escape with her from the ICA. She was, however, captured by Blake Dexter and later retrieved by 47.
(Read more • Previously Featured)

To write a new article, just enter the article title in the box below. Don't forget to categorize them!
Not sure how to start?
Adding content
Community
Head over to the forums for more help or to talk about Hitman.


Hitman Wiki Blogs
To many people, Hitman: Absolution was a let down. While the game certainl…

Read more >

So this profile will be based on the new Hitman movie and the new video ga…

Read more >

The official Hitman Comic Book has debuted as a free download. The comic b…

Read more >
Affiliates