An online encyclopedia about the
Hitman series
.
We are currently going through some changes and you can help us improve!!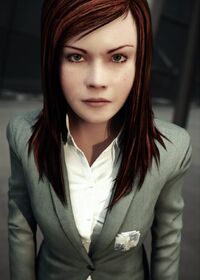 Victoria is a genetically enhanced girl and has similar origins to that of Agent 47. She was designed to be the next breed of killers. She possesses above-average skills and intelligence even surpassing 47's abilities at the major drawback of constant need for exposure to the unknown isotope held within in her Necklace Pendant
Her creation was funded by Benjamin Travis without the knowledge and approval of the ICA, thus, forcing Burnwood to capture and escape with her from the ICA. She was, however, captured by Blake Dexter and later retrieved by 47.
(Read more • Previously Featured)






05:04

Hitman Absolution (VG) () - Powers Boothe BTS


Hitman: Absolution Actor Spotlight.
| | |
| --- | --- |
| | <poll> Will you buy Hitman Sniper Challenge on PC? Yes! No... I already have the PS3 and/or Xbox 360 edition </poll> |

To write a new article, just enter the article title in the box below. Don't forget to categorize them!
Not sure how to start?
Adding content
Community
Head over to the forums for more help or to talk about Hitman.


Hitman Wiki Blogs
The latest Hitman has received a new trailer, the Legacy Opening Cinematic…

Read more >

Agent 47 returns in the latest Hitman game. Taking place after the events of …

Read more >

Hello,

I would just like to say that I have put in an adoption request to a…

Read more >


This month's featured editor goes to 2 very exceptional editors who have shown great dedication this last few weeks to the wiki.

These editors are Jpx400, who has a total of 828 edits and Sledgehammerx, who has a total of 827 edits!
Jpx400's and Sledgehammerx's work on the Hitman Wiki has been that of the many dedicated edits to new information from Hitman: Absolution allowing the community to keep up-to-date with all the new information as it is released.
Congratulations Guys and thanks for the awesome work!!


"The skills you learn today will not only be useful, but vital for performing the task I have chosen for you."
---