Suit and Gun Collection DLC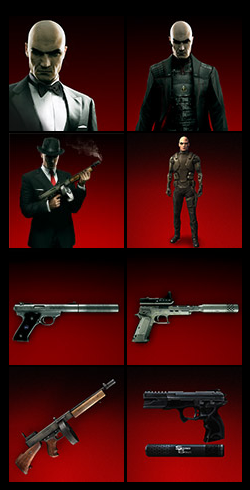 The Suit and Gun Collection DLC was released for PC (Steam) and PS3 on November 20, 2012, the same day Hitman: Absolution was released. The DLC was released for Xbox on December 21, 2012.
Description
This DLC provides Agent 47 with four weapons and four disguises, including three never-before-seen weapons and disguises, and one weapon and disguise from Deus Ex: Human Revolution. These new items may only be used in Contracts Mode. Apart from the Deus Ex suit and gun, the contents of the DLC pack were available through various preorder offers in some countries.
Weapons
Disguises
Pricing
The pack is available for purchase through the PlayStation Store for $5.99 USD, PC (Steam) for $5.99, and Xbox Live Marketplace for 480 MSP.
Ad blocker interference detected!
Wikia is a free-to-use site that makes money from advertising. We have a modified experience for viewers using ad blockers

Wikia is not accessible if you've made further modifications. Remove the custom ad blocker rule(s) and the page will load as expected.