The very first trailer for Hitman: Absolution has been released at E3. Check it out here: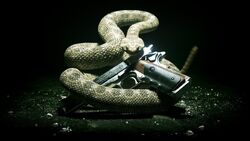 Hitman: Absolution is the upcoming fifth title in the Hitman series by producer, IO Interactive. It will be published by Square Enix and copublished by Eidos.The game will be available for the PlayStation 3, Xbox 360 and Microsoft Windows. Hitman: Absolution will run on IO Interactive's proprietary Glacier 2 game engine, combining classic Hitman game mechanics with brand new mechanics. The game's story will further delve into the mysterious life of Agent 47, the series' protagonist.
Ad blocker interference detected!
Wikia is a free-to-use site that makes money from advertising. We have a modified experience for viewers using ad blockers

Wikia is not accessible if you've made further modifications. Remove the custom ad blocker rule(s) and the page will load as expected.