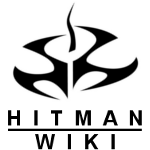 Hi, Romcombo, welcome to Hitman Wiki, and thank you for your contributions! There's a lot to do around here, so I hope you'll stay with us and make many more improvements.
Recent changes is a great first stop, because you can see what pages other people have been editing, and where you can help.
Questions? You can ask at the Help desk, on the discussion page associated with each article, or post a message on an admin's talk page.
Need help? The Community Portal has an outline of the site, and pages to help you learn how to edit.
Please sign in every time you edit, so that we can recognize you!
I'm really happy to have you here, and look forward to working with you! -- Wikia (Talk) 02:16, September 19, 2011
Hello Romcombo! Amnesty here. (You may call me Nesty). I noticed you made quite a few good contributions to the wiki, which is awesome. As you might have noticed, the wiki has become a bit run down, and I'm trying to fix this place up with a few friends (also referred to as my minions on their userpage) :) Therefore, we can also use your help! I hope you'll stick around and become one of our regular contributors! If there's anything you need help with, leave a message on my talk page! :) Nesty Wanna talk? 16:10, September 20, 2011 (UTC)

The request was put in, but declined since the bureaucrat last edited on the 6th of August. I'll sent another request in October, when it has been 60 days. That way, we'll also be able to edit the main page and stuff. If you're interested, we've also created an IRC channel:
http://wbe003.mibbit.com/?autoConnect=true&server=irc.xertion.org&channel=%23Hitman&forcePrompt=true&promptPass=true&nick=Hitman_%3F%3F%3F%3F&settings=cf4cb0411835bc730a0c4e94b63fdf9d

Drop by some time if you feel like having a chat! :) Nesty Wanna talk? 16:17, September 20, 2011 (UTC)
RE: Page Protection
Edit
Hi Romcombo. I lowered the protection on the main page to registered users, and dropped the protection on Silverballers completely. JoePlay
(talk) 17:52, September 20, 2011 (UTC)
Just Checking
Edit
You have an IRC page right? The quotes "the current operator is Roccombo" or "There are currently two bots in the channel, ChanServ and RuneScript" What are you trying to say?
You weren't on our channel even once. Explain please.
Happy editing!
Sincerely The Loyal Recruit (Talk to meh.) 19:22, October 8, 2011 (UTC)
Leadership
Edit
Hello Romcombo. As you might have noticed, I created a blog called "Leadership", and even though the current bureaucrat has returned (after 60 days) and made a few minor edits to maintain in his position, I'm still applying. And seeing as you're on of our respected contributors, I would like your opinion as well, so I'd like to ask you to comment on the blog. Bye now! Nesty Wanna talk? 20:23, October 13, 2011 (UTC)

Once more, I come to you to ask your opinion. The blog is called Discussion time. It is the last thing wikia asked of me. Thanks in advance. (btw, hop on the irc (or my talk) sometime and we can discuss the issues with the others users you have, I don't want any injustice here if I can prevent it) Nesty Wanna talk? 18:55, October 15, 2011 (UTC)
Jorrvaskr
Edit
Hello! Amnesty here!
I know I've been neglecting this wiki recently, but I had some personal matters that needed to be taken care of... Anyway, me and SubtlePen have thought up a plan to get the revamp of Hitman wiki going. Surely, you will understand we need all the help we can get, which is why I'm asking you to come join us! For more information on the process, go to Jorrvaskr. That page contains all the info you need. If there are any questions or remarks, you can deposit them either on mine or SubtlePen's talkpage!
We hope to see you on the Jorrvaskr page!!
Nesty & Subtle Nesty Contact me! 09:51, December 30, 2011 (UTC)
Heya Romcombo! I know what you mean (we have it at Assassin's Creed wiki as well), and I'll look into it in the coming few days! Thanks for pointing it out. Nesty Contact me! 10:13, January 24, 2012 (UTC)
News Blog
Edit
Hi Romcombo, I was wondering if you would be interested in joining the news team on the new Jorrvaskr project (link here) where we will bring together all of our wiki know-how and Hitman knowledge into a weekly news blog. Since you are a regular contributor it would be great to have you on board in this. -- ► Kaloneous ◄ ♣HelpDesk♣ 19:04, January 26, 2012 (UTC)
Thank you
Edit
Hi Rom, I just want to leave this userbox for you as a thank you for your continued efforts on the wiki and the awesome job you did on the main page/starting the new did you know project.

Thanks again and keep up the good work! -- ► Kaloneous ◄ ♣HelpDesk♣ 20:15, January 29, 2012 (UTC)
P.S Awesome desktop background! Deus Ex Rocks! -- ► Kaloneous ◄ ♣HelpDesk♣ 20:15, January 29, 2012 (UTC)
New Daily Hitman Blog
Edit
Hi Romcombo, just thought you would like to know that there is a new News blog up with new information on the Hitman wiki community and new information on the game. Enjoy :) -- ► Kaloneous ◄ ♣HelpDesk♣ 22:47, July 7, 2012 (UTC)